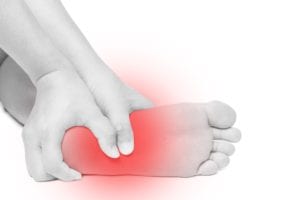 Injuries can strike anyone at any time and cause a tremendous amount of pain. It's important to not only be aware of what body parts are most at-risk for specific injuries, but also how to prevent those injuries from happening and avoid severe pain.
Here are two parts of the body that most people don't associate with injuries and pain, but can actually give you plenty of uncomfortable problems:
Feet
Whether you're simply walking too much and start feeling discomfort in your shoes or you develop painful bunions, feet problems can be as painful as they are annoying. Here are some tips for taking care of your feet and avoiding feet problems and injuries:
Wear comfortable shoes — A study by the American Foot and Ankle Society revealed that roughly 88% of women wear shoes that are too small. Wearing tight or uncomfortable shoes can result in all kinds of feet problems and cause severe pain. Make sure your shoes fit properly, are level, and are comfortable to keep on for long periods of time.
Stretch before being physically active — Foot problems happen all the time during sports. If you're planning on being physically active at all, you should spend a few minutes stretching your legs and your feet to avoid injuries.
Check for bunions — Bunions can start out quite small but then grow into painful issues. Be sure to monitor your feet at all times, keep them clean, and consult with a foot specialist if you think you might have a bunion deformity.
Hands
If you're in a career that involves physical labor or even a lot of typing, your hands are in jeopardy of being damaged by chronic overuse. Here are some tips for taking care of your hands and avoiding hand-related injuries:
Give your hands a rest — No matter what you're doing with your hands, if you are doing it too much, you are putting your hands at risk. Whether you're typing, working out, writing, or even driving, you should periodically give your hands a rest.
Wear quality gloves — Wearing gloves is imperative if you're performing physically straining tasks. Whether you're lifting sharp or heavy items at work or performing landscaping duties around your home, keep your hands safe by wearing quality gloves.
Avoid cracking your knuckles — Thought it might feel good at the time, cracking your knuckles too often is actually terrible for your hands. You'll regret it later in life as your hands start to throb at random times of the day. So take a break from cracking your knuckles and try to cut it out altogether.
For any of these injuries, talking to a medical professional is the best way to handle recovery and pain management.
If you are experiencing foot pain and are in need of painless bunion surgery in Orange County, CA, then give Dr. Richard Moy a call right away.