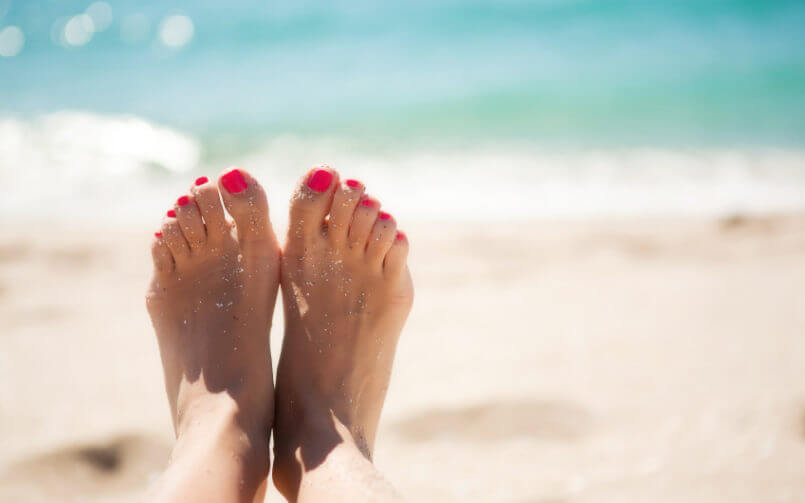 Wearing the right shoes is something every person must fall in line with not just for the summer, but all year round. Summer may be the best time to kick off your shoes and relax by the pool but it is not the time to forget about protecting your feet. Sure, your feet probably feel perfectly fine for a while, but as summer approaches the halfway point you may start to experience uncomfortable foot pain. Our feet are flexible and always find ways to adapt in order to keep you moving, but just as any other little flaw that causes problems your feet may develop a need for bunion surgery.
Bunion surgery historically has a reputation for being extremely excruciating but in the hands of an experienced bunion surgeon it is virtually pain free bunion surgery. To remind patients about bunions, they are bony protrusions at the base of your big toe (metatarsophalangeal joint) connecting to your foot, which appear swollen, tender and red. During bunion surgery, your bunion surgeon will develop a strategy to realign the bone, ligaments and tendons to the correct position. For progressive bumps, your surgeon may elect to remove excess bone and soft tissue from the site to relieve unwanted pressure.
Summer Shoes for Problematic Bunions
More often than not, bunions are as painful or severe in their early stages, during this time your bunion surgeon may recommend to wear different shoe styles to avoid causing stress or trauma to the bunion site. If you have progressive bunions then they can make wearing any type of shoe painful as the big toe curves slightly inward toward the second toe with a stubborn bump at the base of the toe. The first step people should consider is to evaluate the type of footwear that is worn on a regular basis. If the toes are constricted then they need shoes with an appropriate toe box to allow more room for the whole foot. Open-toed sandals can actually be good for short periods of time since there is no toe box to cram the toes together. However, these sandals should not have any straps that run across or rub against the bunion, which will be painful, especially while walking. Even the most comfortable shoes have their flaws, so keep these shoe selection tips in mind this summer:
Wear shoes with a wide toe box
Avoid sneakers or shoes with narrow toe space
Select shoes with good arch support
Every shoe should have good cushions
Keep heels less than two inches, or alternate with flats
Growing Feet Should Visit Bunion Surgery Orange County
The need for better-fitting shoes comes on the heels of recent news that our feet are getting bigger. According to a study recently published by the College of Podiatry, a United Kingdom group from The Society of Chiropodists & Podiatrists, the average shoe size increased almost two sizes since the 1970s. Even U.S. shoe makers, such as Stuart Weitzman and Cole Haan report that average shoe sizes are rising for the extended-size market. More than a third of men and nearly half of women admitted in a U.K. study that they have shoes that do not fit properly. This proves the need for acquiring shoes with a substantial amount of room for toes in the toe box.
If you are experiencing foot pain or bunion problems even after adjustments in shoe selection have been made then it may be time to call the foot surgeon Orange County patients choose most for relief. Get in touch with our office and schedule a consultation at the Foothill Surgical Institute by calling (949) 837-FEET (3338)